Programming Note
June 15th, 2012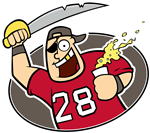 To those new to JoeBucsFan.com, or those among the legions of readers that only come around here once in a while, Joe must advise you that this website does not sleep. It's a 24/7 Bucs-obsessed operation that does not take a day off, does not go on vacation, and takes great pride in working perhaps its hardest to serve you during the alleged down time in the NFL — now through about July 25.
The point it is you can come here daily to get your Bucs fix. Joe already has fun stuff planned for later today and this weekend.
Joe thanks you for your patronage.