Other Bucs Have To Keep Josh Freeman's Pace
August 20th, 2011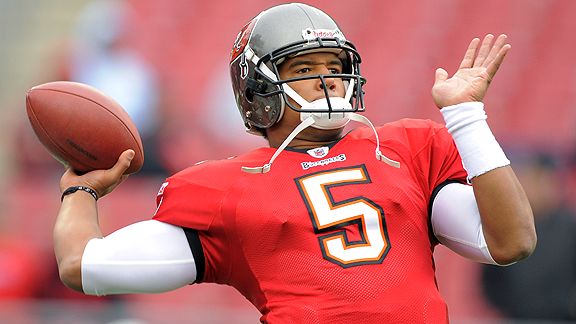 It's pretty clear to any sober or even not-so-sober Bucs fans that the success of the Bucs last year came down to three players: Josh Freeman, LeGarrette Blount and Mike Williams.
A memorable but not exactly accurate comment Joe had from one of his readers last month was that without Freeman, Williams and Blount, Dale Mabry Highway would be lined with fans baring torches and pitchforks.
Jeffri Chadiha of BSPN believes that, as Bucs rock star general manager Mark Dominik likes to say, it's all about No. 5. Chadiha says Freeman is the straw that stirs the Bucs cocktail and the challenge of the rest of the team faces, specifically rookies and second-year players — is that they must keep up the pace of improvement that Freeman has displayed.
That lesson will be essential to whatever the Bucs do this season. One of the NFL's youngest teams went from being a three-win bunch in 2010 to a 10-6 squad last year, largely because Freeman developed so quickly that he tossed 25 touchdown passes and only six interceptions in his second year. What his maturation also did was give his teammates incentive to grow up in a hurry. It's no coincidence that an offense that had as many as four rookies starting at one point — including wide receiver Mike Williams and running back LeGarrette Blount — managed to come within a whisker of qualifying for the wild-card spot that ultimately went to Green Bay.

That growth is what it takes to make people believe in a rebuilding effort. While someone has to be the centerpiece of the blueprint — Freeman, in this case — all the other rocks in the foundation have to see the importance of keeping pace. As Freeman said, "We are a hungry team. We want to be in the playoffs year in and year out. We want to be a team that is competing for championships, and not making the playoffs last season really stung."
Joe has seen enough of (the new) Gerald McCoy and Adrian Clayborn that Joe believes the Bucs will be fine there and, of course, the secondary Joe has no concerns over.
While Chadiha points out the Bucs youngsters need to keep pace with Freeman — and it's a strong, valid premise — Joe believes it is the veterans that need to hold their own. The Bucs offensive line has three veterans in Donald Penn, Jeff Faine and Davin Joseph, four if you believe Jeremy Trueblood will start.
It is those veterans that will decide the fate of the Bucs, Joe is convinced. If Freeman's jersey is filthy, if Blount has no holes to run through, the Bucs offense will simply sputter and bluntly put, the Bucs' defense is not stout enough (yet) to shut down opponents if the Bucs offense is struggling all day.