Win Now Is Raheem's Mentality
August 21st, 2011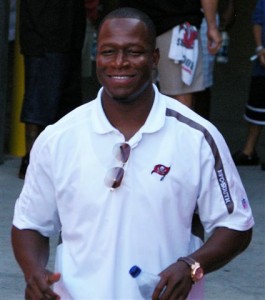 Raheem Morris loves to live by the phrase "mentality before reality."
As Raheem says, that's one of his "core beliefs."
And the mentality is simple nowadays, the head coach explained to St. Pete Times columnist Gary Shelton, win now.
This year, when many expect this team to backslide, he talks about winning the NFC South. Mention having time to grow, having time to build, and Morris shakes his head.

"There isn't any such thing," Morris said. "Did the 1990 Cowboys (7-9) feel they were ready? They were young and hungry, and most people felt they were two, three years away. (Dallas won the Super Bowl two seasons later.) I'm not going to let anyone tell us we're two, three years away.

"Wait two, three years, and people can get hurt, or they can leave. The window is short in this league, man. You have to jump in while you can."
Joe suggests you click through above and read Shelton's excellent column. It should sufficiently fire you up for Bucs football.
Joe's ecstatic that Raheem has high expectations. Every fan should. You don't go 10-6 and then think something less the next season is progress. To be a lasting contender, you must contend. And the Bucs need another playoff-caliber record this season.
Interestingly, Shelton makes a reference to Raheem likening Josh Freeman to Magic Johnson. Man, Joe would love to hear Raheem flush out that analogy one day. On that note, it's still a bummer the Bucs don't have a speedy Norm Nixon-type in the backfield.