Clayborn Says He Can Play Left Defensive End
June 6th, 2011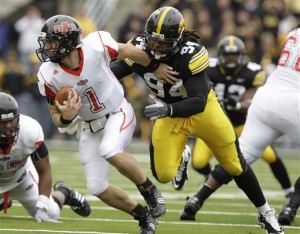 So much has been speculated about Adrian Clayborn's potential limitations because of Erb's Palsy. And perhaps the most popular take is that Clayborn can't play the left side of the defensive line because of the problems he has with his right shoulder.
The Bucs' first-round pick threw a bunch of cold water on that Friday during an interview on The King David Show on WQYK-AM 1010.
Clayborn answered questions about his body and limitations, or lack thereof.
"I've been dealing with this starting back in seventh grade. I couldn't play baseball. I couldn't play basketball. I couldn't play football. And I had to deal with it in college a little bit and, I mean, it's great proving people wrong and fighting against it," Clayborn said. "I know the NFL is another next big step, but I'm looking forward to proving people wrong again."

"I have a little bit of nerve damage in my shoulder and a little bit of lack of movement. So it's not an extreme case. …I believe I can play both sides [of the defensive line]. Playing in my Iowa defense, we pretty much play the heavy technique, so we have to use both our arms and both our shoulders and all that stuff. And I've doing that for four or five years. …I guess I've got to prove them wrong, too."
Clayborn also said a lot of fans and media are searching Google and finding the worst of Erb's Palsy issues and patients. Essentially, Clayborn wants people to know he's not in that boat.
Count Joe among those who assumed Clayborn was going to be limited to the right side of the line. But Joe wonders whether the Bucs coaches would invest any time in Clayborn playing on the left side in what could be a limited offseason.
It surely didn't work last year when Raheem Morris bounced Gerald McCoy all over the line early in the season.