Despite Success, Bucs Struggled Early
June 6th, 2011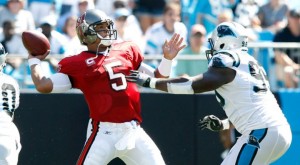 The Bucs wowed the NFL last year when the team, which some expected only to win two games, ran off 10 wins with both a young and injury-riddled roster, narrowly missing the playoffs.
But eye-RAH! Kaufman of the Tampa Tribune has pulled back some of the onion skins and found a disturbing concern: The Bucs were one of the worst first-quarter offenses in the NFL last season.
The Bucs were outscored 73-43 in the opening quarter, and only the Panthers (35), Jets (36) and Bills (40) registered fewer points in the first 15 minutes of games than Tampa Bay.

Of the four touchdowns the Bucs scored in the first quarter, one came on a 41-yard interception return by linebacker Geno Hayes at Arizona.

That leaves three offensive touchdowns in 16 opening quarters, giving coordinator Greg Olson a troubling issue to address this summer in trying to initiate more productive starts.
Well, there's two ways of looking at this. While eye-RAH's information is indeed troubling, Joe sort of senses that Olson is pretty adept at changing on the fly and adjusting, which is a very key thing. It also could mean Olson is playing possum in the first quarter, keeping a keen eye at what the defensive tendencies are before he pulls the trigger.
Whether Olson is preparing his offense adequately, well, this season will prove telling.