THE OPTIMIST: Blount, The New Line, Or Both?
June 6th, 2011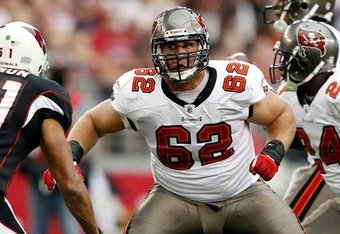 You've all read THE PESSIMIST, who spews his Bucs-related anger like no other. But Joe also wants you to know THE OPTIMIST. 
THE OPTIMIST is Nick Houllis, a Bucs fan and an accomplished writer whose steadfast allegiance to the team goes back to the 1970s. Houllis is the founder, creator and guru of BucStop.com, a place Joe goes to get lost in time via Houllis' stunning video collection.
THE OPTIMIST will shine that positive light in your eyes. Some will love it. Some won't.
Were all excited waiting for the time to pass so it can be football season again! Oh sure there is lockout, some of us actually pay attention to it, while others realize it's just a few OTAs were missing so far.
Besides, summer is coming and that's when the NFL usually goes quiet full-time. Outside of JoeBucsFan.com and BucStop.com, you never hear much about football in July until camp opens, and we can't wait because the Bucs should be competitive and this time we all know it.
Josh Freeman is a seriously talent. We have some exciting receivers, we're building a defense, and we have a legit running threat in LeGarrette Blount.
Or do we?
Question of the day: Was it Blount that gave the Bucs a respectable running game? If you think you know the answer for sure, keep reading, because some of the evidence may surprise you.
We all know our recent history; the Bucs won the first two games of 2010 over a couple bad teams with some opportunistic plays on defense and some nice throwing by Josh Freeman. But the running attack was nothing to write home about.
And it got worse; big time losses to Pittsburgh where the Bucs got 53 yards on the ground, and New Orleans where we couldn't even run for half of that. Cadillac Williams was averaging about two yards per carry, worst of any starting running back. Fans saw LeGarrette Blount hop for 12 yards on his first carry and bulldozer into the endzone with an ala-Alstott effort against Pittsburgh and we were calling the radio stations and posting on the websites "We want more Blount"!
The Bucs couldn't accommodate, Cadillac knew the protection schemes; Blount did not. We couldn't risk getting Josh Freeman hurt. The image of a sprawling on-the-turf Tony Romo was all anyone needed to see.
But it was right about then some changes started to happen. Keydrick Vincent, the starting left Guard the Bucs picked up from Carolina for his allegedly great tenacity in run blocking, couldn't run block!  Normally, the team would have gone with its backup, but Jeremy Zuttah was busy backing up Center Jeff Faine who was out with a triceps injury.
In came Ted Larsen who played football 40 minutes away when he was in high school at Palm Harbor. Then a week or so later, Jeremy Trueblood goes down, and James Lee finally gets action after waiting since 2008 on the Bucs roster; that's three new O-linemen.
In the first five games of the season, the Bucs averaged 64.8 yards per carry from the running backs. Two weeks later with Penn, Larsen, Zuttah, Davin Joseph, and Lee at the front, the Bucs over the next five weeks averaged 111.6 yards per game. That's no small difference, that's the kind of variation a team hopes for going from one season to the  next; must less separated by a mere two games (or changing three linemen).
Getting 46.8 yards per game more out of your running backs has to be  explained, so how do you do it?
Ok, Let's say it WAS Blount – simply put, he is a better runner than Cadillac. Ok, I can take that in, but how many of those Blount runs were through holes you or I could have gained a few yards through? I think of Cadillac's early season runs for no yardage and see him hitting a ton of opposing uniforms for the most part.
Later in the year with the improved line (which also substituted Derek Hardman for Joseph), Cadillac's average greatly increased too. From 2.5 ypc, Williams was averaging about six yards over the final six games. 
Better productivity due to the new linemen? Could be, but there is a window of about two or three games where the Bucs running attack improves before Cadillac's numbers go up. too.
Was it the THREAT of a Blount boosting Cadillac? Or did things improve behind a better group of O-linemen who were also better at pass protecting, which provided better passing numbers, opening more holes for Cadillac?
If this is getting confusing, don't worry, your probably not alone; and I have bad news – I don't have the answers. I'm not even sure there are any. But one thing is for certain – either LeGarrette  Blount is one heck of a better runner than Cadillac Williams, or the  of Penn, Larsen, Zuttah, Joseph and Lee are better than Penn, Vincent, Faine, Joseph and Trueblood.
There is one other option: They are both true. And if that's the case, a 10-6 season in 2011 might be looked at as greatly underachieving.