The Bucs Know Knees
May 5th, 2011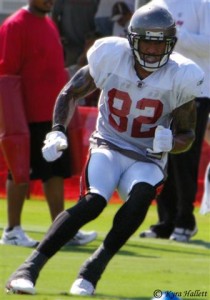 Raheem Morris went on a radio media tour this week, appearing on mulitiple stations. And of course, rockstar Mark Dominik wasn't denied, checking in with the national Jim Rome Show on WDAE-AM 620 Wednesday.
Both were asked about second-round pick Da'Quan Bowers, and part of their responses included comments about the Bucs' experience with knee injuries. Essentially, Dominik told Jim Rome that his staff knows bad knees, like those of Kellen Winslow and Cadillac Williams, and isn't daunted by managing Bowers' condition. Raheem offered a similar talking point take on 1040 AM.
Joe doesn't quite know what to make about the mystery surrounding Bowers' knee. Joe gets the whole theory of Bowers' perceived value and risk/reward in the second round, but for a team that insists on building through the draft, Bowers' represents one hell of a gamble. It's not like the Bucs are going to go out and sign a beast of a free agent pass rusher in case Bowers' can't get healthy.
Joe also wants to add one famous Buccaneer knee that Dominik didn't take credit for managing correctly– that would be the one belonging to Antonio Bryant. It turned out to be the right move to not give Bryant a long term deal and to not re-sign him. Clearly the Bengals' weren't as wise.