"He's Not Going To Be Coming Downhill"
May 17th, 2011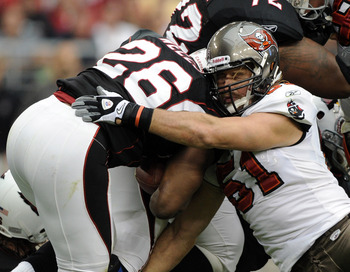 The same old stuff from Barrett Ruud in 2011 would be a good thing, so says former Bucs tight end Anthony Becht.
Speaking on WHBO-AM 1040 Monday, Becht essentially explained that Ruud's upside outweighs his downside and that the defensive line limits Ruud's effectiveness.
"Keeping Barrett Ruud would be a positive thing for them, but he's not going to be coming downhill with the young defensive line being pushed back. … And people aren't going to like that, " Becht said.
So is that what would turn Ruud into a Pro Bowler? A better defensive line?
Of course, the Ruud saga will continue to rage on at least until he signs with a team, and likely a lot longer if that team is the Bucs.
Joe surely has written enough about Ruud's perceived value, but Joe still hasn't found anyone who thinks Ruud is as good as he was through much of the 2007 and 2008 seasons.