YaYa Diaby Has A Strong Game, So Why Wasn't He On The Field More?
November 19th, 2023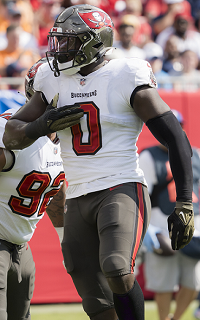 This had Joe stewing since the final minute of the first quarter today.
Bucs rookie edge rusher YaYa Diaby had a sack in the first half. Throughout the past six weeks or so, Diaby has shown more upside and production than Joe Tryon-Shoyinka.
JTS is little more than a warm body at this point.
So Diaby gets the sack and not long after that, the Bucs pull within 10-7 with just under two minutes left on a Mike Evans touchdown catch, the 88th of his career.
Unlike Bucs coach Todd Bowles, 49ers coach Kyle Shanahan had no interest in kneeling out the half. So with a guy who has shown promise in the past, and already has a sack, you'd think Diaby would be right back on the field since it was obvious the 49ers would be throwing.
Nope, JTS was back out there. In fact, Diaby didn't get back on the field until the fourth quarter. And guess what happened? He got another sack.
Now unless the Bucs are trying to tank, then why this insistence on playing JTS? He is just slightly better than a lawn chair, and not a guy who has demonstrated he was hot against a hot team.
Joe can't answer that. On face value, it sure appears terribly irresponsible.