Upset Vibes And Memories
November 19th, 2023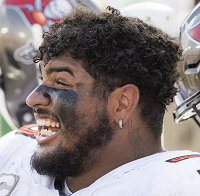 It's nearly 13 years to the day when the Bucs stunned the NFL world at San Francisco.
It was hardly historic, but it was the last Buccaneers shutout victory and one aspect of it opened Joe's eyes.
The 2010 Bucs, then 6-3, rolled into Candlestick Park and carried the ball 42 times for 162 yards and a touchdown en route to a 21-0 victory. That 49ers defense ended the season as the No. 2 ranked rushing defense in yards per carry.
Then-Bucs rookie running back LeGarrette Blount — an undrafted rookie! — hammered away on the 49ers and was complemented by Cadillac Williams.
The Bucs win against a 3-6 49ers team was no shock, but the look of the game sure was. It also was a day that had a lot of Bucs fans telling themselves, 'Damn, this young 2010 team is even better than we thought.'
Joe brings this fond memory up today as a way to hype the interns at JoeBucsFan.com world headquarters. Yes, special things can happen when the Bucs are in the other Bay area. And it's the time of year when teams often tell the NFL what direction they are headed.
The Bucs are a very healthy team for mid-November, with a veteran quarterback, a bunch of hungry talent and plenty of coaches with Super Bowl rings.
It's time to show up from the opening whistle like Tampa Bay did last Sunday.