TV Map For Bucs-Texans Game
November 4th, 2023
Big game tomorrow for the Bucs and the Texans, both with a 3-4 record. And as one could expect, the game will be shown free pretty much exclusively within the SEC footprint.
Your local CBS affiliate has the game in most areas of Florida, Texas and Oklahoma, plus parts of New Mexico. For those who do not live in those stats, it's off to YouTubeTV.
Locally, the game is on WTSP-TV, Channel 10. Ian Eagle, Charles Davis and Evan Washburn will be on the call.
Of course, Bucs fans can head to Big Storm Brewing in Ybor City or Big Storm's other taprooms in Odessa, Clearwater, Cape Coral and downtown Orlando at the Amway Center to catch the game. Naturally, visiting your neighborhood Hooters is always a wise move. Bonus: Select Hooters in Florida carry Big Storm Brewing beer on tap!
Enjoy!
CBS Sunday Broadcast Map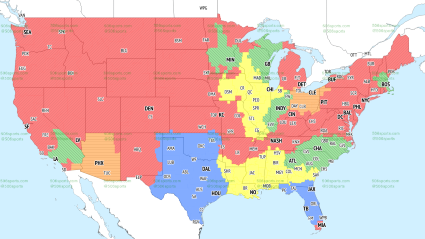 Blue: Tampa Bay @ Houston
Red: Seattle @ Baltimore
Yellow: Chicago @ New Orleans
Burnt Orange: Arizona @ Cleveland
Green: Indianapolis @ Carolina (LATE)
As always the TV map is courtesy of 506Sports.com.