Todd Bowles References Replacing Players
November 6th, 2023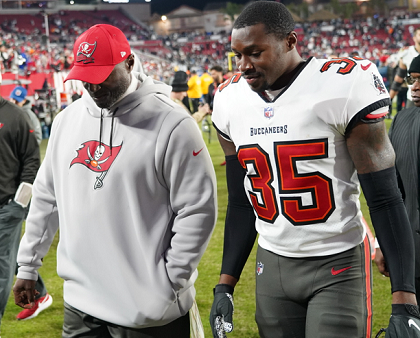 Interesting radio comment yesterday afternoon by Todd Bowles after he praised his offense for a 37-point output.
Then Bowles turned to his beloved defense. "Certain guys gotta learn how to play better or we have to replace them," Bowles told the Buccaneers Radio Network.
Considering Bowles said the 39-37 loss was a complete failure by his defense, it's hard to pin down to whom Bowles was referring.
Safety Ryan Neal already was benched for Dee Delaney yesterday. Formerly a starter, Neal got just 20 snaps and he appeared to make the best worst of them. Of course, Carlton Davis was roasted and toasted, and fellow cornerback Zyon McCollum often seemed a step behind where he should have been after he replaced Jamel Dean.
Dean wasn't having a great day before his concussion.
The Bucs pass rush had an inconsistent afternoon, too.
Joe's all for shaking up the lineup a bit. But Joe does not think there are quick fixes on the bench.