The Demise Of Chris Godwin
November 6th, 2023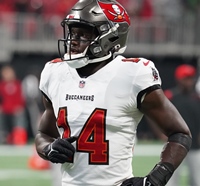 His numbers don't lie and the Bucs' apparent disinterest in throwing deep to Chris Godwin tell a story, too.
Joe is in a bit of disbelief when it comes to a man who likely is the second best receiver in Tampa Bay history.
Godwin hasn't had a 2023 season befitting of a guy earning $20 million in his prime. This baffles Joe considering Mike Evans has played in every game, the playcaller and quarterback respect the hell out of Godwin, and he's more than 1 1/2 seasons removed from knee surgery (ACL).
This was supposed to be a huge year for Godwin at 27 years old. He looked strong in the summer and was a daily regular at the voluntary spring workouts.
What Joe sees is a playcaller that has given up on Godwin as a deep threat and the Bucs (for reasons Joe can't figure out) aren't throwing Godwin many slant passes to help ease the sting of their sad running game.
Godwin has just one touchdown catch this season after a paltry three last season. Is he no longer a red zone threat, either?
After eight games, Joe has to think something is going on — beyond hearing Bucs officials saying "we have to get Chris more involved."
If it is just a case of the Bucs don't know how to get the most out of Godwin, then Joe is speechless.