Time Not On Buccaneers Side
November 11th, 2023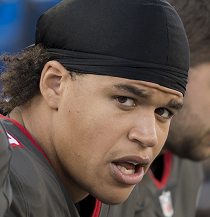 One number that emerged from the Houston Horror on Sunday is especially hard to stomach for those who understand how NFL teams are dead without a pass rush.
Texans rookie QB C.J. Stroud threw 40 passes and official NFL NextGen Stats data shows Stroud averaged a whopping 3.35 seconds of Time To Throw, which measures the length of time from the snap to the release of the quarterback.
Those 3.35 seconds were the sixth-longest Time To Throw mark for a game season.
For perspective, Stroud had a 3.54-seconds Time To Throw in Week 6 against the Saints, but that was more a function of the Saints defense harassing him and locking down receivers. In that game, Stroud completed less than 50 percent of his passes and threw just 27 times — versus 40 times against the Bucs' historically soft defense.
As Bucs inside linebackers coach referenced this week to the Tampa Bay media, Stroud simply had much too much time to throw on Sunday.
Man, just a few better pass rushes among those 40 snaps and the Bucs win that game Sunday. Remember, Houston ran for just 53 yards on the Bucs — 470 yards and 5 touchdowns came through the air.
Joe expects the Bucs' pass rush to be better tomorrow against the Titans. It can't get much worse.