Historic Sunday Coming For Lavonte David
November 11th, 2023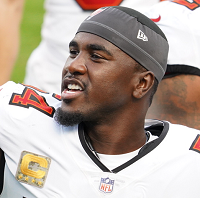 Joe is sure at least one great thing will happen to the Buccaneers tomorrow.
Hopefully, there's a Tampa Bay victory against Tennessee at The Licht House. But if not, iconic Bucs linebacker Lavonte David is sure to hit the 1,000 career solo tackles mark with a typical day at the office. David has 997 career solo tackles in 174 regular season games.
He ranks 14th all-time in the modern era (since 1994) in that category.
Bucs Hall of Fame cornerback Rondé Barber ranks 10th at 1,044 solo tackles, two tackles behind Hall of Fame inside linebacker Brian Urlacher, who played 1 1/2 more seasons than David has.
With one tackle for loss tomorrow, David will pass slimy Saints edge rusher Cameron Jordan in that category. They're tied for ninth in the modern era at 152 tackles for loss each. David is the only non-pass-rushing linebacker in the top-10.
Joe loves seeing David climb the record books.
This week on the Buccaneers Radio Network, head coach Todd Bowles talked about how David is playing "at an elite level." He didn't have that kind of praise for others on his defense outside of Antoine Winfield, Jr.