Surging Cade Otton
November 6th, 2023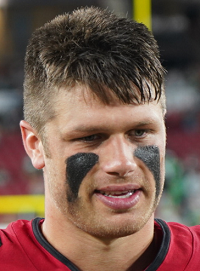 How about that career game yesterday for tight end Cade Otton, the first pick of Round 4 in last year's draft!
Joe is happy for the guy. He was a good draft pick and he's probably an even nicer dude.
Otton had his best game of the season and probably his best game as a pro yesterday with 6 catches for 70 yards including 2 touchdowns. His 24-yard completion early in the game got the Bucs offense out of the gate. Yeah, Otton got stripped and it was a turnover. Joe's willing to overlook that in the spirit of a young player developing.
Considering the Bucs aren't pounding the ball into their stud receivers relentlessly, Tampa Bay desperately needs Otton to thrive because they don't have another quality tight end.
Ko Kieft is a bottom-of-the-roster NFL player. David Wells is in the same boat. And rookie Payne Durham is a project.
Otton making a leap in second season, something strong players typically do, would go a long way toward keeping the Bucs in the playoff chase. That's assuming their defense can bounce back from their worst performance in many years.