Officials Screwed The Bucs
November 19th, 2023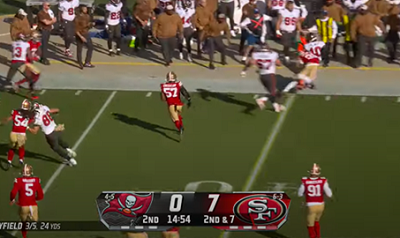 Twice today Buccaneers' offensive players were absolutely drilled out of bounds and no flag came from officials.
And both came at key points in the game.
Joe will focus on the first one. See the FOX-TV screenshot above. Veteran 49ers safety Tashaun Gipson crushes Trey Palmer in the back after he runs out of bounds on the right sideline. Palmer had taken a handoff from Rachaad White on a trick play that saw Baker Mayfield block defensive end Joey Bosa. Palmer ran around right end and headed for the sideline. He clearly was hammered with both feet out of the field of play, and Gipson wasn't slowing down or holding back.
Ironcially, TV cameras caught Gipson putting his hands up as if to say, 'Sorry, I didn't mean it."
Regardless, that shouldn't matter. It was a hard and illegal hit at the 49ers' 40 yard line with the Bucs trailing 7-0 early in the fourth quarter. A 15-yard penalty there would have put the Bucs in field goal range and certainly would have changed their playcalling.
Instead, Mayfield was sacked and fumbled two plays later.
Even worse (physically speaking) was White getting clobbered farther out of bounds after a first down catch-and-run to the Bucs' 32 yard line midway through the third quarter.
No call by the refs.
The Bucs punted on that drive and San Francisco followed up with a touchdown.
Joe hates when referees sit on their flags for no good reason. These were hard hits out of bounds, the kinds of non-calls that would never go the Bucs' way.