Lavonte David Reaches 1,000-Solo-Tackle Mark
November 12th, 2023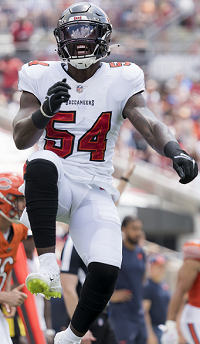 It came in the fourth quarter with the game already decided — after another quality performance from the Bucs' iconic 33-year-old linebacker.
Lavonte David tackled Titans tight end Josh Whyle with about one minue remaining for solo tackle No. 1,000 of his 12-season career.
Per Pro-Football-Reference.com, only 13 players have more solo tackles than David since 1994. One is Hall of Fame Buccaneers cornerback Rondé Barber (1,044) and another is legendary Tampa Bay linebacker Derrick Brooks (1,300).
Two of David's takedowns today were tackles for loss, giving him 154 of those in his career. Of the eight players with more tackles for loss than David since 1999, all lined up on the line of scrimmage in their careers. David has not.
What a resumé David is padding. More important, he's having a great season and looks like at least four years younger on the field than his age, and David has been healthy all season.