"Everyone On This Team Thinks That We Should Have Won That Game"
November 20th, 2023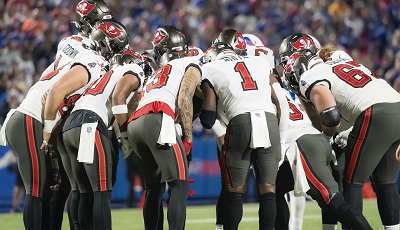 Lots of big time positives to take from the Bucs' 27-14 loss to the 49ers on Sunday.
That comes straight from a thoughtful player at One Buc Palace.
Joe is referring to veteran kicker Chase McLaughlin. He was very upbeat about the Bucs' rough day.
"Everyone on this team thinks that we should have won that game," McLaughlin said, noting that the Bucs did a lot of encouraging things against powerful San Francicso.
McLaughlin said the Bucs' showing proves the Bucs can hang with the best. His comments came on the Buccaneers Radio Network as he sat alongside punter Jake Camarda, who was in agreement.
Joe loves the optimism, and it speaks to how the Bucs have zero excuses when it comes to winning most of their remaining games against a soft schedule. However, head coach Todd Bowles said yesterday there are no moral victories, so the Bucs can't be feeling too good about themselves.
Bowles was on SiriusXM NFL Radio today and, of course, talked about losing the turnover battle yesterday. He seemed to think that cost the Bucs the game.
Bowles added that cutting penalties, which the Bucs did on Sunday, combined with red zone finishing "and cut out a couple of things on defense" should lead to wins down the stretch.
Missed tackles hurt the Bucs yesterday more than big 49ers throws down the field, Bowles noted.
Again, Joe appreciates all the upbeat vibes. Now it's time to execute. Time is up on losing — and the upcoming opponents aren't very good.