Don't Blame Baker Mayfield
November 5th, 2023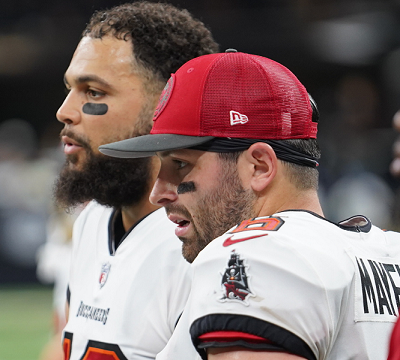 The NFL cliché says the quarterback gets far too much credit and far too much blame.
The truth lies somewhere in between.
For the sad 3-5 Buccaneers, Joe wouldn't blame Mayfield for the team's bad record.
Statistically, it doesn't fit. And the eye test doesn't show Joe that Mayfield as a core problem.
That doesn't mean Mayfield is a star. But he's done enough to show he's tough, explosive and consistently protective of the football.
After today's ugly 39-37 embarrassment in Houston, Mayfield now has 12 touchdowns and 4 interceptions through eight games. That's one of the better TD/INT ratios in the NFL. He's also deftly avoiding sacks and fumbles, and scrambling better than he ever has in his career.
Essentially, Joe believes, the Bucs are getting nearly everything they could have expected out of the guy. And Joe might bet a few bucks that Mayfield is the best quarterback in the NFC South.
In one additional game, Saints QB Derek Carr has 10 touchdowns and 4 interceptions. Carr also has a running game; Mayfield does not. All offseason, Joe heard people saying Mayfield needs a running game to play well. That hasn't proven true.
Mayfield's solid opening eight games gives Joe hope for the Bucs' ability to pull themselves out of their current funk and find their way to meaningful games in December.
Joe knows very well what bad QB play looks like. Mayfield ain't it.