"Discipline" Is The Key, Says Lavonte David
November 15th, 2023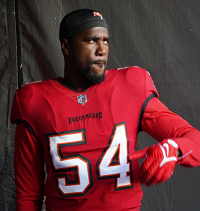 Much respect to The Jim Rome Show for having Lavonte David on yesterday to acknowledge him reaching 1,000 career solo tackles. Thanks for reading Joe, Mr. Rome.
David didn't say anything too surprising during his visit. David talked about how well Baker Mayfield competes and is respected by teammates. He also loves how Mayfield has great energy and "grinds for every inch."
The iconic Bucs linebacker says the film shows that Sunday's opponent, the 49ers, is loaded. Athletes, superstars and few weaknesses — that's how David described San Francisco.
With the 49ers offense able to beat a team in so many ways, David said the Bucs' key will be mental focus.
"I think it all comes down to discipline," David said.
He noted it's tempting to try and do too much against a strong opponent. Sounding like an old man, David reflected on how football really is a simple game; winning comes from players mastering fundamentals and their roles.
David said the 49ers offense is designed to distract defenses and get them off their basics, so the Bucs have to counter that with old school discipline.
Can the Bucs do that?
Joe thinks the Bucs are capable of at least slowing down the Niners. Before clobbering Jacksonville 34-3 on Sunday, the high-powered San Francisco offense scored 17 points in each of the previous three games.
Joe's concern is with the Bucs offense. It sure would be nice to run the ball against San Francisco's top-5 defense, but there's no reason to think the Bucs can, which makes them painfully one-dimensional.