Baker Mayfield Talks Controlling Destiny
November 20th, 2023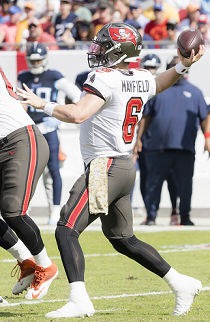 Yes, the Buccaneers are poised to make a postseason run.
With seven games remaining, the Bucs are one game back of the division crown and Tampa Bay only has one team with a winning record (Jacksonville) still on their schedule. It also helps that the Falcons and the slimy Saints have two games remaining against each other, starting on Sunday in Atlanta.
Sure, the Bucs sports a 4-6 record, but that's nothing to cry about when the team has the talent and fire to turn things around in a hurry.
Baker Mayfield went there yesterday after the 27-14 loss to the Niners, one that would have been a lot closer had Cade Otton or Deven Thompkins not dropped touchdown passes.
"With a group that fights this hard, it's too damn hard not to think that we can control our destiny," Mayfield said. "We have to be able to do that."
Joe agrees. Head coach Todd Bowles has the tools he needs to win the NFC South.
Go do it!