49ers 27, Buccaneers 14
November 19th, 2023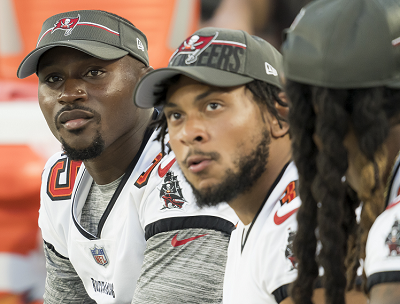 The Bucs showed plenty of life and lots of sporadic fight today, but it wasn't nearly enough and the lack of consistency is maddening.
Now the Bucs are 4-6, tied with the Falcons and one full game behind the slimy Saints (5-5) in the chase for the NFC South crown.
So which of those teams has the best starting quarterback for the stretch run?
That's why Joe's not betting against the Bucs. Baker Mayfield looks more and more comfortable in the Bucs offense and his afternoon at San Francisco would have been better today had Deven Thompkins and Cade Otton not dropped touchdown passes in the fourth quarter.
Joe wrote all about the sad Bucs defense (story on home page). They were their own gravediggers today, manhandled through the first three quarters and changing the framework of the game with their ineptitude.
Niners QB Brock Purdy was a ridiculous 21-for-25 for 333 yards and 3 touchdowns. Allegedly, that computes to a perfect quarterback rating, for those who are into that stat. (Joe is not.)
Ironically, the huge 27-7 deficit in the third quarter is probably what sparked the Bucs offense, which again and inexplicably avoided throwing early to Chris Godwin and Mike Evans. Why? Why? Why?
Trailing by that much, the Bucs started throwing, which is the strength of the team. Maybe one day the Bucs will start throwing early and often.
The Bucs still can't run the ball, but the offense found life late in the game and the defense manned up in the fourth quarter. It's at least something to build on as the Bucs try to win the worst division in football.