32 Yards A Game Is Not Enough
November 14th, 2023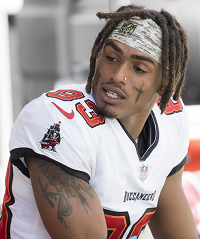 So what will it take for the Bucs to win the NFC South?
Lots of answers to that question, but considering Tampa Bay has the worst NFL rushing attack of the past 10 seasons, Joe is very dialed into production in the passing game.
And that repeatedly lands Joe at the feet of the Buccaneers' Nos. 3, 4 and 5 receivers.
Combined, Deven Thompkins, Trey Palmer and Rakim Jarrett are averaging just 32 yards receiving per game. That's the exact total wide receiver Russell Gage averaged last season, during which loads of fans wanted to run the guy out of town for being so disappointing.
If the Bucs are going to host a playoff game, Joe is convinced either Palmer, Thompkins or Jarrett will have to step up and close the season strong. Combined, those guys must deliver at least a few special games out of the final nine.