Tying Greatness
October 23rd, 2023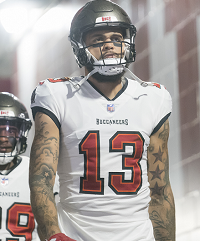 Yes, it's ok to feel warm and fuzzy for a brief moment on this dark Monday following yesteday's crap show on Tampa Bay's home turf.
Joe's appreciation and good feeling, albeit fleeting, comes from the greatest receiver in Bucs history: Mike Evans.
Evans caught a 40-yard bomb from Baker Mayfield in the first half yesterday. It was a classic go-ball with Evans being covered by good Falcons cornerback A.J. Terrell, their 2020 first-round draft pick. Mayfield released the throw when Terrell and Evans were even and streaking down the left sideline. Evans got the separation and the touchdown.
That was Evans' 85th regular season TD catch. That moved him up on the all-time list to No. 18 in career touchdown receptions. That ties Evans with Hall of Fame receivers Lance Alworth and Paul Warfield, as well as Steelers great Hines Ward, who needed 14 years to hit the mark. Evans is in his 10th season.
Evans is healthy and cruising toward a monster statistical 2023 season. Joe is just grateful that the dropsies eluded Evans yesterday and he and Mayfield were on the same page.
If the Bucs are going to do anything this season, it sure looks like Evans and Chris Godwin will have to carry a monster load.