Todd Bowles Highlights Offense's Misfires, Points To Good Performances
October 18th, 2023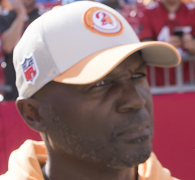 Very interesting assessments by head coach Todd Bowles yesterday.
Bowles was more pointed in his postgame commentary on the Buccaneers Radio Network than he was earlier this week following the 20-6 drubbing by the Lions at The Licht House.
Asked to give reasons for his offense's struggles on Sunday, Bowles served up this response.
"I thought we struggled in practice all week," Bowles said. "I thought we missed some deep throws. I thought we were off here and there in the run game and mentally sluggish — I don't want to say 'physically' because they played hard. And it was a guy here or there; it wasn't the entire offense at the same time. Certain guys played well. I thought Luke [Goedeke] played a very good ballgame, Luke and Tristan [Wirfs].

"We had no sacks [allowed] but we couldn't get the ball down the field like we wanted to and make those connections. And getting off the field on third down and not being able to sustain drives, that was probably our biggest thing."
Extra intersting to Joe was Bowles noting he was pleased with the play of backup running back Ke'Shawn "Sneak" Vaughn.
"Sneak comes in there, he had some hard runs [Sunday]. He's a tough guy. He's a good run-in-between-the-tackles guy," Bowles said. "I felt it was a good game for him. We just couldn't get him going."
For those counting, Vaughn had six carries for nine yards against Detroit.
Joe was pleased to hear Bowles say he liked the physical effort and only thought the mental side of the game was off. In some ways, that's a much easier fix.
As for Vaughn having a "good game," Joe will be curious to see if the Bucs shake things up Sunday against the Falcons and give Vaughn the ball to start the game.