A Major Mentality Red Flag
October 18th, 2023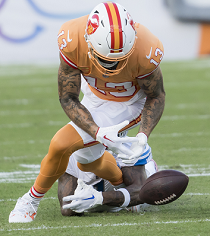 This sent Joe on a power walk to calm down.
Is it possible the chip-on-our-shoulders Buccaneers lost to the Lions because they were too high on their two weeks old win against the Saints? A Bucs assistant sure seems to think that was a big part of the loss.
Cerebral quarterbacks coach Thad Lewis joined the Buccaneers Radio Network last night and said he didn't like the "bye week excuse" for the Bucs' poor play on Sunday, and he noted the Bucs weren't far off from the Lions. "A couple of missed throws here and there, a couple of missed blocks here and there," he said.
But Lewis then went down the road of noting the Bucs' effort was off and the team mentality was riding too high after beating the Saints on Oct. 1.
"I don't think we came out and played with the same fight that we played with against the Saints," Lewis said. "Obviously, that's a different game for us. But I feel we should approach every game like that. If we can approach every game like we approach the Saints game, then that would be good. I don't think we did."

"… I think some of the guys probably needed that [loss to the Lions] because we were high coming off that Saints game. So they know it's real, that you can get beat (laughs)."
Joe is not laughing.
How does a Bucs team that should have been as rested, focused and healthy as any in the NFL on Sunday come out flat? Players and coaches had two weeks to prepare. Hell, this was a big game in a national time slot against a key conference opponent — at home!
Joe sees the Lewis comment as a major red flag. The Bucs have too many seasoned veterans — players and coaches — to have allowed that to happen. Obviously, nearly all the weakness was on offense.
Baker Mayfield said after the game that the offense needs to "get pissed off." Please do. And forget about beating the slimy Saints.