Three Days To Get A Running Back
October 28th, 2023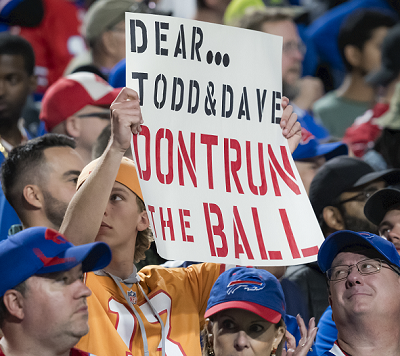 So Thursday night, the Bucs' run game, specifically running back Rachaad White, appeared to show signs of life.
Was it a mirage or a sign of things to come?
As the stat geeks would say, "small sample size." Thursday night in Buffalo (9 carries for 39 yards) was one of White's better games as a runner playing in the western hemisphere.
Joe would be irresponsible not to point out the Bills have one of the worst rush defenses in the NFL and were missing several key defensive starters due to injury, including stud Pro Bowl linebacker Matt Milano.
Joe doesn't think the Bucs can afford to lure themselves into believing average running against a bad run defense signals White's awakening as a running back on the North American continent.
Joe wants to believe what Bucs offensive coordinator Dave Canales has been preaching for weeks: That the run game will eventually, gradually, blossom. That it only takes time.
Besides, let's say the Bucs do go out and get a decent weapon at running back and White also demonstrates Thursday was no fluke, that he's turned a corner. All of a sudden you have a strength and defenses would have to gameplan not just for one back, but for two.
There is no good reason why the Bucs shouldn't go get a running back by Tuesday's NFL trade deadline. That is, if they are serious about the playoffs and not just virtue signaling.