The Off-The-Helmet Catch
October 28th, 2023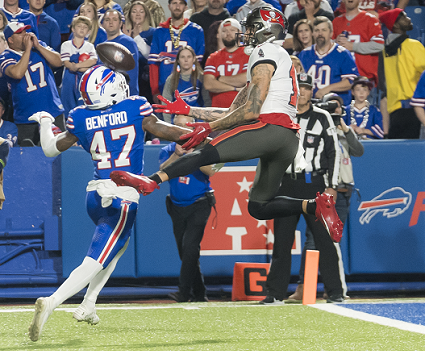 Joe is perpetually annoyed by the Mike Evans naysayers that have been loud this year, and loud on-and-off for a decade.
Joe hopes the stunning photo by the legendary JoeBucsFan.com photographer helps shut them up for a day.
Above is a picture of Evans' fourth-quarter touchdown catch aganst the Bills on Thursday night to pull the Bucs within one score of Buffalo. Look closely, the ball is on the helmet of Bills cornerback Christian Benford.
Evans is fully airborne and the too-short throw hits Benford in the dome while he's running at full speed, yet Evans has the poise to stay focused and make the awkward catch midair. Joe's photo angles show the catch was a lot tougher than it looked on TV. Most receivers would juggle that ball away for a drop.
A lot of fans want more from Evans, who is on pace for one of the biggest statistical seasons of his Hall of Fame career.
Joe sees Evans as a guy who gives everything he has, stays in great shape, and is willing to catch passes wherever the Bucs line him up. Joe only wishes the Bucs would lean on Evans more.