Rondé Barber: "Complacency" Issue Hurts Baker Mayfield
October 29th, 2023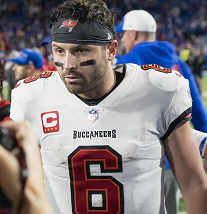 "Complacent" – marked by self-satisfaction especially when accompanied by unawareness of actual dangers or deficiencies : marked by complacency : SELF-SATISFIED.
Joe is not big on publishing Merriam-Webster dictionary definitions in this space, but Joe did so above in the interest of clarity.
Bucs legend Rondé Barber jumped on the Buccaneers Radio Network last week and said he thinks quarterbak Baker Mayfield has an issue with his in-game mentality. It's too inconsistent.
"Baker's a guy that likes riding that gamer feeling," Barber said. "We have to find a way to get Baker to feel that way the whole game. Because when he does, when he feels like he's that underdog or there's adversity against him, he proves you wrong. He always does."

"… He's got to fight complacency. That's what I'm trying to say. When he gets complacent, it's not the same Baker."
Hey, who is Joe to argue with Barber on this point? Also, Barber said he's gotten closer personally to Mayfield. "I've just gotten to know Baker and I like him a lot. I think he's awesome," Barber said.
Joe's not sure how Mayfield could lose the underdog feeling Barber referenced.
Was Mayfield riding that high after the Bucs started 3-1? Maybe. Joe sure hopes not. It's not like the Bucs had knocked off big-time teams.
Regardless, Mayfield is the starting quarterback and Barber says Mayfield is capable of great things if the Bucs find him a running game.
Barber said Tampa Bay's play-action game will work better if the Bucs can run, in part because it will help "clearing windows for Mayfield," as in throwing lanes so he has fewer passes batted down.
Barber is not against the Bucs passing a lot more on first down, he says, if that can help the Bucs avoid 3rd-and-7 (or longer) situations.
"If you give [Mayfield] 3rd-and-7 [or longer], the defense, their entire playbook now opens," Barber said.