Report: Bucs Feel They're Playing Better Without Tom Brady
October 15th, 2023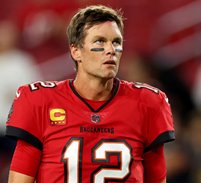 This insider report should come as no surprise to anyone who watched Tom Brady lead a struggling Bucs offense last season that averaged 18 points per game.
ESPN NFL insider and noted Brady insider Jeff Darlington is at The Licht House today covering the Bucs-Lions game for BSPN. It's a homecoming of sorts for Darlington, who spent a ton of time in Tampa during the Brady years. Darlington also is a local guy, the pride of Seminole High School.
On air this morning, Darlington told his audience that the Bucs are are team steaming with "confidence and swagger."
And Darlington added that an important person inside One Buc Palace told him yesterday that the Bucs feel they are a better club post-Tom Brady.
"I was speaking with one Bucs source yesterday who told me that this team, his favorite part about this team, is the fact that a lot of people thought they'd be terrible without Tom Brady. They heard it all along, and they actually now feel that they are playing better football than they were last season," Darlington said.
Joe won't play a game of guess Darlington's source (that's the Bucs' job when Ira Kaufman breaks a story), though Joe is not surprised at all.
As Joe has written many times, the on-field demise of Brady last season (decision-making and the overall mental side of the game) is not something that would ever be discussed by the guys running the Bucs. But the proof was on the field with the limping Tampa Bay offense.