"Probably Time To Give The Bucs Credit For The Tristan Wirfs Thing"
October 5th, 2023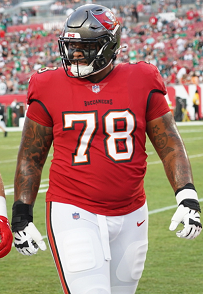 How many offseason dice rolls have come up winners for the Bucs?
Undrafted rookie nickel? No problem. Baker Mayfield at quarterback? Sure. A first-time playcaller? Got it. Zyon McCollum as the No. 3 corner? He's got it. Three nobody receivers behind Mike Evans and Chris Godwin? They've scored three touchdowns. The new kicker? He's money.
A big one on the list is the move of All-Pro right tackle Tristan Wirfs to left tackle.
One Joe was fearful and thought it was an unnecessary risk; the other Joe was all for it because, well, beastly Wirfs could move back to the right side if it didn't work out.
The results has been astounding.
Wirfs looks comfortable and dominant. It's hard to find the learning curve.
Sam Monson, the high priest of the PFF Tribe (aka Pro Football Focus), held a meeting of his worshippers this week on YouTube and advised them, "It's probably time to give the Bucs credit for the Tristan Wirfs thing.
"He's been, if anything, better on the left side," Monson continued. "We're four games into the season now, he's given up two pressures."
Yes, credit is due. But Joe thinks that's mostly because Wirfs' replacement at right tackle has been very good, 2022 second-round pick Luke Goedeke.
Exciting stuff for the Bucs to have two 24-year-old tackles playing so well.
Joe can't wait for the Bucs to figure out how to run behind Wirfs. If it happens this season, the Bucs might be looking at a stunningly strong seed in the NFC playoffs.