Keep Calm, Bucs Fans!
October 15th, 2023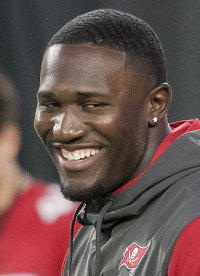 Joe is taking a pain and anguish break to inform every single Buccaneers fan that only eight NFL teams have more wins than the Bucs.
That's right. Only seven clubs have four or five wins. The Bucs are 3-2.
The sky is not falling. Dark clouds have not drifted over the One Buc Palace. There's no reason to toss your jerseys throw the orange Jell-O you made for today's game into the street. (That sounds fun, but a dog might eat and get seriously ill.)
Head coach Todd Bowles often talks about the Bucs finding their identity. It's still being formed, but Joe thinks Tampa Bay is becoming a team that needs turnovers to win and one that is going to have to adjust to its deficiencies at tight end and in the running backs room.
That will take a little time, but while that's happening, Joe remains confident the Bucs certainly have enough to win the sad NFC South. That includes beating the Falcons (3-3) at The Licht House next Sunday.
If the Bucs lose that game, then Joe will bless a fan freakout. Eventually, Joe will get ZZs tonight thinking that only seven teams are in better shape than the Bucs.