Historic Defense
October 27th, 2023
Is anyone else like Joe this morning? Joe was fully outraged last night at the Faux Field Goal and, at halftime, Joe envisioned a lot of things happening with the Bucs in the next three months that are just not pleasant to think about.
That all seemed to change for Joe in the fourth quarter. Yeah, the glacial-like urgency (?) of the offense was frustrating, but man, if Chris Godwin turns around, Joe's typing about a win and we are all too hungover to remember Sabby the Goat flashbacks provided by Ryan Neal.
It just doesn't feel like a real loss this morning the way the Bucs nearly stole a win in northwestern New York.
Well, part of that is because the Bucs defense was historic in the fourth quarter. Yes, you read that correctly. Joe means "historic." Per the stats outfit OptaSTATS, the Bucs defense pulled off something that hasn't been done since Al Gore invented the internet.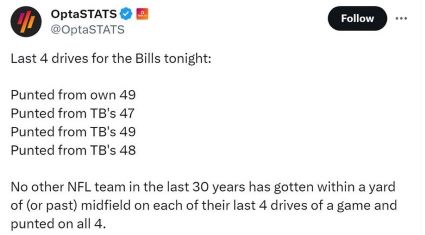 Now, can the Bucs defense be counted on to  pull this off the rest of the season to keep the team in games? No. Let's not be silly.
Until proven otherwise, the Bucs have major flaws. Too many to overcome, this Joe thinks, now that the Bucs have a losing record entering November.
Is the season lost? No. Not yet. Joe doesn't know how many rabbits the team can pull out of its hat the rest of the way to be a playoff team.
Joe guesses the bright side is, the Bucs haven't yet used one of those rabbits. Well, maybe last night they did.