Gameday Tampa Bay
October 22nd, 2023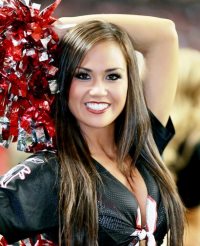 Game 6
Dixie Chicks (3-3) at (3-2) Bucs 
Kickoff: 1 p.m.
TV: FOX (WTVT-TV Channel 13, locally) with Chris Myers, Mark Schlereth and Kristina Pink.
Streaming: NFL+ and Buccaneers.com (Geographic restrictions apply).
Radio: Buccaneers Radio Network WXTB-FM 97.9 in the Tampa-St. Petersburg region (Transmisiones de radio en español en WTMP-FM 96.1 y WMGG-AM 1470 en Tampa). Additional stations throughout Florida on the Buccaneers Radio Network can be found here. The game also will be broadcast on SiriusXM Channel 83 or 226 (Buccaneers Radio Network feed).
Weather: Awesome day!  Tailgaters will enjoy temperatures in the mid-70s per AccuWeather.com. Look for it to rise to 81 at kickoff and by game's end should be 87. All under partly sunny skies. There is a zero percent chance of precipitation with a mild breeze of 5 mph throughout the afternoon. This is why we live in Florida, folks.
Odds: Per BetMGM, as of midnight, Bucs -2.5; over/under 37.
Referees: Ron Tolbert and his gang will work today's game. This is very good news for the Bucs. Since 2016, home teams in games worked by Tolbert and his outfit have won at a 58 percent clip. Per Sharp Football Analysis, Tolbert and his posse let the players play, " Only three times in his nine-year career has Ron Torbert ranked in the top five for unnecessary roughness calls. Only once in that span has he ranked in the top five for unsportsmanlike conduct infractions."
Injuries: Dixie Chicks — (None).  Bucs — Questionable: DT Vita Vea (foot), OLB Anthony Nelson (concussion).
Outlook: Joe has a feeling this game is the biggest game yet this season. A win and Joe has a hunch this is the start of something really good. A loss? The floor could cave in. Call this a crossroads game. A loss today and on Thursday at Buffalo and suddenly the Bucs are 3-4 losing four of their last five games. And if that happens, all of a sudden Todd Bowles' job security will become a thing and bars throughout the Tampa Bay area will be talking about Kyle Trask and Michael Penix (one could possibly lead to the other). Today on Oct. 22, no Bucs fan wants to think about that. Beat the Dixie Chicks today and the Bucs have a stranglehold on the division with wins over both the slimy Saints and Dixie Chicks, and who doesn't believe the Bucs can sweep the Stinking Panthers when they play them in December? Joe doesn't want to hear from Todd Bowles at around 4:15 p.m. this afternoon trying to explain away another loss that the Bucs wanted to establish the run. You haven't done that since 2021. Establish productive plays! Establish scoring points! If that means you are moving the ball on the ground, good. If that means you have to use two of the most talented receivers in the game, good. Whatever works. This nonsense that "we want to run the ball" yet you have been the worst in the NFL since the start of the 2022 season won't fly. Win the friggin' game. Score points. Figure it out. Rotten Dixie Chicks quarterback Desmond Ridder actually masquerades as an NFL quarterback when he has time to throw. The Bucs' defensive front needs to show up today and hound Ridder. Joe will get straight to the point: Good teams don't lose to Atlanta at home. Get it done today, guys. Lock up a win.
Fun facts: Bucs defensive backs have had good success against the Dixie Chicks. S Antoine Winfield has a pass defended in 5 of 6 career games against Atlanta. In last year's Bucs home win over the Dixie Chicks, Winfield had a sack and forced fumble. CB Carlton Davis has 13 passes defended in seven games against Atlanta. … The Bucs lead the NFL in sacks allowed but have the No. 25 offense. That's screwed up. … Since 2020, the Bucs have the most NFC South wins (14) … Despite an awful game last week, Baker Mayfield is still fourth in the NFL in third down completion percentage at 67.3… Per Timo Riske of the PFF tribe, if the Bucs win today, their playoff chances jump to 73 percent. If the Bucs lose, playoff chances plummet to 40 percent.
"I just think overall, the Bucs are the better team."

Former NFL DB Samari Rolle likes the 3-2 Buccaneers to take care of business against a division rival this weekend

Use code 33RDTEAM at signup on MyBookie for a deposit boost! pic.twitter.com/tJqrfoHcpw

— The 33rd Team (@The33rdTeamFB) October 21, 2023