"Dogfight" On Deck
October 14th, 2023
BY IRA KAUFMAN
Todd Bowles had an extra week to figure out how to tame the Lions. He needed every minute.
The surging Lions are commanding more respect with each game heading into Sunday's matchup at Raymond James Stadium. In this tantalizing duel between division leaders, Tampa Bay's defense will be put to the test.
It would be a big help if Calijah Kancey can make an impact in his home debut because the visitors are difficult to defend, ranking fourth in scoring offense and No. 6 in total offense after averaging 29 points per game in the second half of last season.
You can't blame the Rams for trying to upgrade from Jared Goff, even though he helped them to an NFC championship in 2018. Matt Stafford arrived and led Los Angeles to a championship, but Goff hasn't exactly faded from the picture.
Detroit has won 12 of its last 15 and Goff tops all quarterbacks with 23 completions of at least 20 yards. The Lions are averaging 30 points per game, boosted by rookie tight end Sam LaPorta and the acquisition of veteran running back David Montgomery.
"Obviously, we added stuff around him, but Jared's in a really good place now," says Lions GM Brad Holmes.
Like Baker Mayfield, Goff isn't asked to throw 40 passes per game. Unlike Mayfield, he is supported by a productive ground game. Goff's savvy with play action will be a challenge for Devin White and Lavonte David.
"Goff is dangerous," says Carlton Davis, "and he's not afraid to throw the ball down the field. Detroit's doing really well. Even the one game they lost, to Seattle in overtime, they probably think they should have won. I'm really excited for this game. We're having a good run so far, but we've got to continue it."
You could argue Detroit's 4-1 getaway is the primary factor in the league's decision to push this game back to a 4:25 start, but the Bucs had a say in it as well. There's no flex if Tampa Bay stood at 1-3 instead of 3-1.
When healthy, Kancey has the athleticism to knife through and blow up plays in the backfield. Buc fans envision a creamsicle celebration shortly after sunset Sunday — but Goff has other ideas.
Since Bowles arrived, no quarterback has shredded the Buc defense like Goff. In 2019, he hit on 45-of-68 passes for 517 yards against Tampa Bay as the Rams fell 55-40. Four years have passed and still,  no quarterback in NFL history has ever thrown more completions in a single game. During Tampa Bay's 2020 championship season, Goff led the Rams to a 27-24 road triumph against the Bucs, completing 39-of-51 passes for 376 yards.
"It's gonna be a dogfight Sunday," Davis vows. "We expect to perform at a high level on defense. We want to be Top 5 — it's all part of the plan. On Sunday, we have to prove it again."
Confident and physical, the Lions are slight favorites. They look like the best team in the NFC North by a wide margin and the rest of their schedule appears favorable. While a lopsided loss to the Eagles exposed Tampa Bay's flaws, here's another opportunity to show the Bucs are capable of beating an NFC power.
"We have an experienced team with a lot of chemistry," says Davis. "As a defense, we've been through a lot of big moments on big stages. We know what it takes to get it done."
The Bucs have a chance to forge a 5-1 record before a treacherous stretch of four road games within a five-week span. That includes imposing matchups at Buffalo and San Francisco. It would be lovely to build that kind of cushion entering the more difficult part of the schedule.
First things first. Mr. Kancey, meet Mr. Goff. Feel free to show him your brand of Southern hospitality.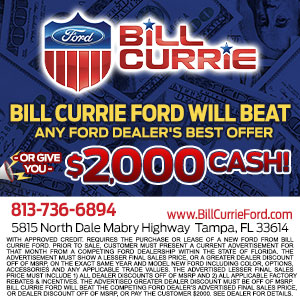 ---
Ira Kaufman Talks Locker Room Chatter At One Buc, Lions Game On Baker Mayfield's Back, Sunday Predictions, Jared Goff-Todd Bowles History, And More