Cleanest Jersey In The NFC
October 2nd, 2023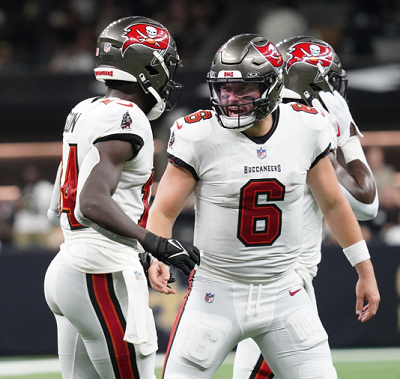 Baker Mayfield eating only four sacks through four games is downright stunning considering the Buccaneers have the worst running game in the NFL at 3.0 yards per carry.
It's like a 2022 flashback but with successful scrambling added.
That included yesterday, with Mayfield scrambling eight times for 31 yards, the fifth-biggest rushing game of his career. It's not Mayfield's 23 runs this season that is dragging down the Bucs' rushing average.
But this is not a bash-the-run-game post, it's Joe praising the offensive line.
The Bucs allowed the fewest sacks in the NFL last season — 22 through 17 games. And they're at the protection game again with a revamped group under the same offensive line coaches.
Four sacks allowed in four games is not luck.
The pass blocking has been strong overall and only Patrick Mahomes has eaten fewer sacks with two. (Hey, isn't his left tackle some guy named Donovan Smith?)
While rookie Cody Mauch is enduring serious but expected growing pains at right guard, the Bucs' tackles have been damn good. Nothing Tristan Wirfs does at left tackle is surprising. He's an All-World athlete with tremendous devotion to his craft. And Luke Goedeke is passing a lot of tests at right tackle, including a huge one yesterday.
While not special, Robert Hainsey is a legitimate starting center who has proven he can pass block through 21 starts. And newcomber veteran left guard Matt Feiler has been remarkably consistent this season. The interior line isn't perfect by any standard, but it's doing enough.
And Mayfield's movement instincts and scrambling have been good enough to complement the line play perfectly in three of the Bucs' four games.
Joe is excited to see how well the line plays when it's really jelled later this season.