Calling The "W" For Mike Evans
October 2nd, 2023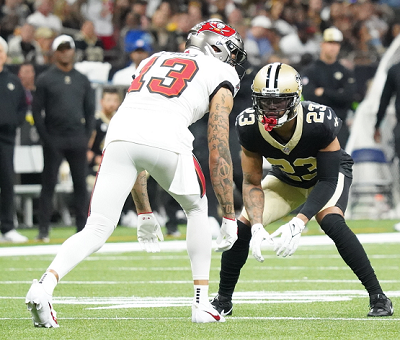 Much was made of the Mike Evans-Marshon Lattimore bout yesterday and Joe is giving a clear win to Evans in the twice-annual duel between the greatest receiver in Bucs history and one of the great jerks in slimy Saints history.
It often ends in Evans trying to hurt Lattimore, but yesterday it ended early — not long after Lattimore was crying to referees because he was called for holding Evans. It was an obvious full-blown tackle of Evans before the ball arrived.
Joe got great pleasure out of seeing Lattimore flailing and whining because he was overmatched. Sadly, officials didn't call Lattimore for punching at Evans after he was out of bounds on one reception. Evans moaned for a flag but quickly got back to the Bucs' huddle.
Evans left the field late in the second quarter with a hamstring injury after catching all three of his targets for 40 yards, plus the pass interference penalty (8 yards and a first down) Joe referenced above.
More important, it was the the Bucs' third consecutive win against the Saints.
As for Evans' hamstring, it's been described to Joe as "a tweak," but there's no official word from the Bucs. And they won't have to say a thing until the next injury required injury report — Wednesday, Oct. 11.