Bucs 26, Saints 9; Tampa Bay Is King Of The NFC South
October 1st, 2023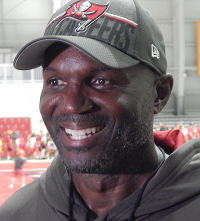 Lord Todd Bowles has done one hell of a coaching job.
His 3-1 Buccaneers are free and clear in first place in the NFC South with today's win in New Orleans (2-2) and a loss by Atlanta (2-2) against Jacksonville.
And Joe has another one for the skeptics, too.
Remember all those barking this week that the Bucs have only beaten the winless Bears and Vikings to start? Well, the Vikings beat the Panthers today on the road and the Bears were much improved against Denver .
Say what you want about Bowles, but this year it's 100 percent his team and coaching staff, and the results have been delivered through four games.
Joe is impressed. Still much to show, but so far the Bucs have proven they are the unquestioned kings of the NFC South with today's blowout of New Orleans.
Forget the obvious in the win column, Bowles gets a ton of credit for having total faith out of the gate in Baker Mayfield and first-time playcaller Dave Canales. And he's coached up so many young players playing a role on the Bucs defense.
So many heros today, from Trey Palmer and Deven Thompkins stepping up huge after Mike Evans left with a hamstring injury, to solid interior pressure all game from the Bucs defensive line with two sacks for Vita Vea. Antoine Winfield Jr. was a monster and the Bucs' run defense healed very quickly after gettting gutted and gashed on Monday night.
Take a bow, Baker Mayfield! Breaking the Saints' double-digit streak of games in which they didn't allow more than 20 points was no fluke. Joe believes Mayfield is playing as well as anyone could have expected, especially with a poor running game.
Head coaching is about results, and Bowles has delivered. Tampa Bay isn't even playing its best football yet. What a happy and uplifting bye week it will be!