Baker Mayfield And The "Universal Language"
October 10th, 2023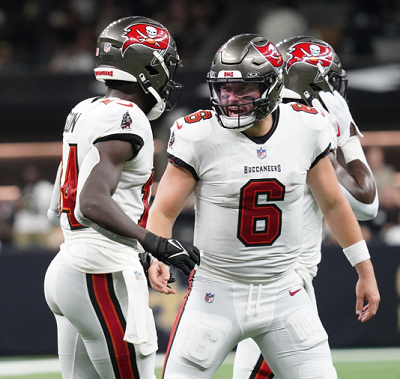 Joe has a first class seat on the Baker Mayfield bandwagon.
A near-perfect preseason followed by a stunning four-game run to start the regular season, what's not to like?
It's all come together so quickly for Mayfield. And one big reason is Mayfield's way about himself.
General manager Jason Licht calls Mayfield "a dude." Head coach Todd Bowles has called Mayfield a guy's guy that players love to play for.
Bucs officials and many others have referenced Mayfield making tough-guy plays via his tough-guy ways as a big part of him rallying the roster and earning its respect.
Former NFL quarterback, brother of Carson Palmer and noted college QB guru Jordan Palmer referenced this in a report on FoxNews.com. He sees Mayfield as being the right QB at the right time for Tampa Bay.
"I always say there's a couple of universal languages in an NFL locker room. Toughness is one of them," Palmer said. "You can be a punk, or you can be the man. You can be from the hood, or you can be from the country. But toughness? We speak toughness. Work ethic, that's a universal language. And then making plays. We need you to make this block, we need you to run your lane in kickoff, we need you to get this stop, we need you to make this throw.

"I see Baker as a tough, hard-working guy who's making plays and that's universal language to speak to any guy in the locker room."
Tampa Bay needed a strong personality like Mayfield to take the reins from Tom Brady, and they got it. It sounds like heresy, but it's been an easy transition from Brady to Mayfield.
Mayfield has a long way to go to prove that he's the Bucs quarterback that Brady was, but he's perfectly on track through his 6 1/2 months in Tampa.