Antoine Winfield Is Determined To Beat Foot And Ankle Issues
October 17th, 2023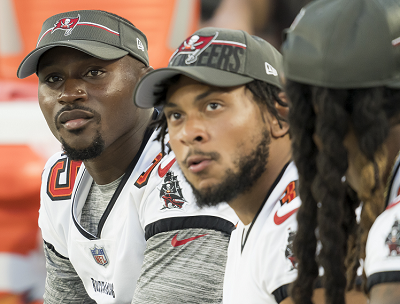 It's easy to understand why stud Bucs safety Antoine Winfield Jr. wasn't a first-round draft pick back in 2020.
He had two season-ending injuries in college that cost him most of his sophomore and junior seasons: hamstring and Lisfranc, respectively. Throw in being undersized and it's understandable how Winfield landed with the Bucs midway through Round 2.
Winfield has had a bunch of nagging injuries during his Bucs years, including concussion issues. So he's a guy who's very aware of his body and is committed to staying healthy.
Around One Buc Palace, Winfield is known as a tireless worker who was NFL-ready on Day 1. And that took a new turn this season when Winfield decided to do his share of pre-practice and pregame warmup barefoot.
Winfield told the Buccaneers Radio Network this week that he ankle and foot issues last season focused him on strengthening those areas any way he could. And that's why he's gone the barefoot direction.
Interstingly, co-host Ali Marpet, the former Bucs guard, told Winfield that he went from having his ankles taped with three kinds of tape as a rookie — nearly a cast, Marpet said — to playing with no ankle support late in his career. Marpet credited the strength he built in his ankles without tape to increased success on the field.
Joe loves how Winfield is so committed to every detail. Hopefully, it keeps him healthy all season. He missed eight games over the 2021 and 2022 seasons.