Aggressive Todd Bowles
October 2nd, 2023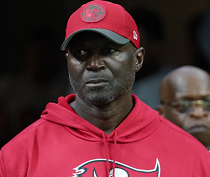 Bucs coach Todd Bowles wasn't happy with the loss on Monday night. He thought the Bucs were too passive. So Bowles made sure to correct that.
When the Bucs had a chance Sunday in New Orleans, they took their chances, took their shots. And it ended up in a 26-9 Bucs win to put them at 3-1 all alone atop the NFC South.
Bowles discussed how he didn't want a repeat of Monday.
"We wanted to be a lot more aggressive," Bowles said. "We were trying to take what they gave us. If they crowded for the run, we threw it. If they tried to take away the pass, we ran it. It was a good balance with that."
Indeed.
Throwing passes to Deven Thompkins, who had his career best game, and Baker Mayfield running for timely first downs was a breath of fresh air.
Joe loves it when the Bucs take the fight to the other team. There is nothing wrong with forcing your opponent to make errors. The Bucs have been aggressive against the Vikings, defensively against the Bears and offensively again against the slimy Saints.
That's 3-1 on the aggressiveness scale and in the standings.