A Monday Night Lesson In Patience
October 24th, 2023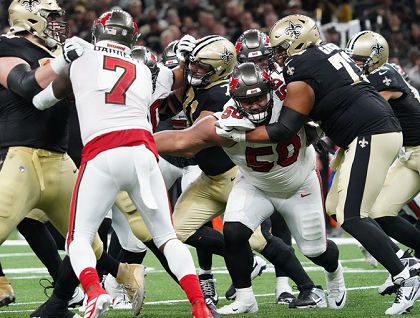 The Bucs' loss to the Falcons on Sunday sure brought out the negativity groupies for the 3-3 Buccaneers. Many are the same people that would have embraced a 3-3 start for this team back in late-August.
It just goes to show that how the team looks on the field is more important than the record for most folks. They take the famous "you are what your record says you are" quote from Bill Parcells and flush it down the toilet.
Joe won't pretend the Bucs are in a complete state of doom. First, they're a very healthy team. Second, they're a talented bunch, compared to many NFL teams. Third, they're clinging to the final wild card spot.
None of that means the Bucs are playing well or cruising down a good path, but it is reason to breathe and look around.
Take last night's Vikings (3-4) win against the allegedly mighty 49ers (5-2). Fans and analysts leaguewide wrote off the Vikings as a garbage team after their rough start. But now they've won two in a row and are being discussed as a dangerous potential wild card contender. Hmmm, the Bucs beat them in their own crib.
The Vikings' next three games are against the Packers, Falcons and Saints. Minnesota could be come quite a friendly ally of the Bucs.
(A quick word for those who moan about the Bucs' pass rush. Tampa Bay has more sacks than the 49ers and San Francisco has played an extra game, even with Devin White being sackless. The 49ers didn't sack Kirk Cousins and he threw all night. The Bucs smacked Cousins around rather well last month.)
A couple of Vikings wins do not make the Bucs a good team, but it should be a lesson in NFL patience. At this point in a season, a bad team now can be a pretty good club in a few weeks.