Todd Bowles Says Leak Was A Call To All Bucs Opponents
September 21st, 2023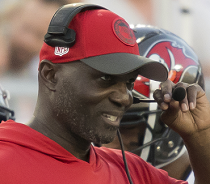 Justice was served yesterday when Tampa Bay punter Jake Camarda was named NFC Special Teams Player of the Week.
But that legendary performance is not what's top of mind for Todd Bowles when it comes to fourth down.
The Bears blocked an early Bucs field goal attempt Sunday and it wasn't on kicker Chase McClaughlin. Backup tackle Justin Skule sprung a leak, failing to block his guy to the inside.
Bowles told the Buccaneers Radio Network that's like waving a red flag to the rest of the NFL.
"We gotta make sure we shore that up beacuse that can be a problem going forward. You [have one kick blocked], you're going to open the door to everybody coming after you in the weeks to come," Bowles said.
That makes sense. Show weakness in an area and the NFL will test you until you prove it's a strength.
As for Camarda, Joe is blown away by the guy. His 72 yard punt for a touchback traveled about 82 yards in the air — no wind. It may have been the longest in-air punt in NFL history.