Todd Bowles: Ke'Shawn Vaughn Was "Demoted"
September 8th, 2023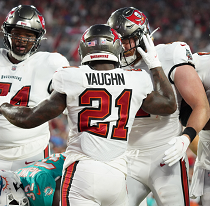 Joe was a little surprised Todd Bowles was so candid today about his pissed off running back.
Fourth-year Bucs running back Ke'Shawn Vaughn missed practice Wednesday and it was unexcused, per Bowles.
Where did he go?
It was speculated that Vaughn might be unhappy about his Week 1 role after learning of where he stood in the game plan. The conjecture was born from Vaughn appearing at the bottom of the Bucs' four-man depth chart relased this week. Those depth charts aren't known for accuracy, but in this case the rankings appear to have been legitimate.
Today, Bowles said Vaughn missed Wednesday because he walked out. Bowles said he had a discussion with Vaughn and the issue is now in the past.
"I'm sure he's dissatisfied. I'd be pissed off if somebody demoted me but I probably wouldn't leave the buidling," Bowles said of Vaughn. "But he's over it and we've moved on from it."
Joe finds the Vaughn demotion very interesting considering how strongly general manager Jason Licht lobbied publicly for Vaughn this offseason.
Vaughn had just 17 carries last season, the same total he had in the 2021 season playoff game against the Eagles.