How To Hand The Skeptics A Middle Finger
September 8th, 2023
BY IRA KAUFMAN
If the Bucs want to make a dynamic statement about their new offense, they couldn't have picked a better opening-day opponent.
Dave Canales has had plenty of time to study Minnesota's defense and write down areas to exploit. He may have run out of ink.
Let me sum it up for you — this is one lousy defense.
The Vikings won 13 games last season, despite a defense that ranked 28th in points allowed. Only the Lions yielded more total yards, so it was little wonder when coordinator Ed Donatell was jettisoned in favor of Brian Flores.
And while Flores has a solid reputation around the league for his emphasis on innovation and physicality, he simply doesn't have much to work with heading into Week 1.
The best thing Flores has going for him is the raucous crowd at U.S. Bank Stadium, which could be a challenge for Baker Mayfield.
If the Bucs can hear Mayfield and execute the play calls, Canales should have a banner afternoon.
"I'm aggressive by nature," says Flores. "Philosophically, that's something I believe in."
That sounds like a challenge for Canales, but Flores doesn't have enough play-makers on his side. The front seven on Minnesota's depth chart combined for all of 16 sacks last year and the Vikings are now operating without two of their better defensive players.
Minnesota released linebacker Eric Kendricks, who averaged 115 tackles in eight seasons. Edge rusher Za'Darius Smith, who posted 10 sacks in 2022, was traded to the Browns.
The one impact player remaining is Danielle Hunter, who returned from an injury-riddled 2021 season to register 10 1/2 sacks. The Vikings wisely held on to Hunter, one of the league's premier pass rushers, retaining him with a new contract.
He's got power, speed and guile coming off both sides. It would make sense to line Hunter up on the left edge and have him test Luke Goedeke rather than take on Tristan Wirfs, one of the NFL's elite tackles.
Job 1 for Mayfield and Canales is to keep constant tabs on Hunter and prevent him from wrecking the game plan. Hunter's a very good player, but he's one guy.
If Goedeke needs help, give him help. Minnesota's No. 2 pass rusher might be Marcus Davenport, a former first-round pick by the Saints. After five seasons and only 21 1/2 sacks, New Orleans had seen enough of Davenport.
Last year was a disaster as Davenport was limited to half a sack in 15 games.
Vikings coach Kevin McConnell was masterful in close matchups last season as Minnesota became the first team in NFL history to register at least 12 wins despite a negative scoring differential. He's not about to take the Bucs lightly.
"What a challenge I believe this team is going to be for us," he says. "I've got so much respect for Todd Bowles."
Like Bowles, Flores is adept at disguising coverages and unleashing blitzes from all angles. Unlike Bowles, he doesn't have enough impact players to suit his aggressive style.
Canales and Bowles have no intentions of asking Mayfield to match Tom Brady's all-out aerial assault. Tampa Bay led the NFL in pass attempts in each of the last two seasons and that strategy backfired in 2022. Mayfield averaged only 30 throws in 2020 while leading the Browns to an 11-5 record and a postseason berth.
Canales sounds determined to restore offensive balance in Tampa, but the Vikings have a porous secondary and Mike Evans and Chris Godwin are both healthy and hungry.
Evans, who shockingly went 11 consecutive games without scoring a touchdown last year, is eager to regain his reputation as a premier threat in the red zone.
While it's a long season, Week 1 results matter. Teams that win their season opener are more than twice as likely to make the playoffs as Week 1 losers. The Vikings went 8-1 at home last year, so this is a glorious opportunity for the Bucs to give the middle finger to their many skeptics.
It won't happen unless Mayfield and Canales lead the way.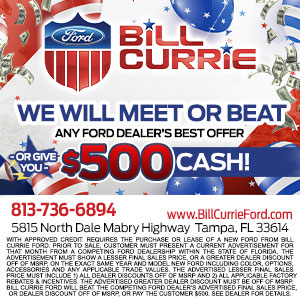 ---
Join Ira Kaufman and Bucs fans on opening day at the Big Storm Brewing Co. taproom in Clearwater, on 49th St. just south of Ulmerton Road. It's a 1 o'clock kickoff and Ira will be hanging out starting at 11:45 a.m. 
Beautiful covered patio with strong sightlines and audio. Indoors, too! Cocktails, Florida's best craft beer and more.
SEE YOU SUNDAY!