The Brewing Chris Godwin Question
September 26th, 2023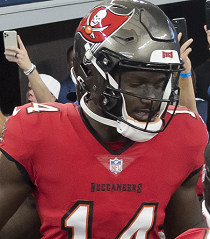 Chris Godwin's streak of 17 consecutive games of five catches or more was broken tonight.
Godwin had 3 catches for 32 yards against the Eagles, and Godwin has 13 catches for 141 yards this season and no touchdowns.
Can anyone recall Baker Mayfield taking a deep shot to Godwin?
Unlike the past four seasons, Godwin is playing more outside receiver this year as the stud 1b to Mike Evans' 1a, but the results have been unspectacular.
Godwin is damn good and looks healthy and has made a few plays. So why aren't the Bucs getting more out of him? Especially for the $20 million he's hauling in from Team Glazer this season?
Job No. 1 this week for Todd Bowles and his playcaller, Dave Canales, should be to figure out how to get more out of their best offensive players. The running game is stuck in the mud, but Godwin and Evans sure don't appear be.
Joe isn't alarmed now, but if Godwin has another nothing-special game on Sunday, Joe is going to start wondering what's going on. He's too good to only produce like Russell Gage was supposed to.