Report Implies Common Ground Found In Mike Evans Contract Talks
September 5th, 2023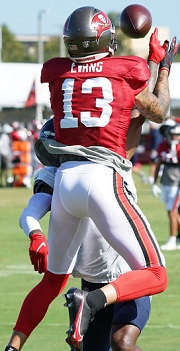 This should put a little smile on the faces of many Bucs fans.
Well-connected NFL reporter Josina Anderson X'd out that the Mike Evans camp and the Bucs have, over time, found a little common ground when it comes to an Evans contract extension.
"I'm told over the course of talks between both sides, the Bucs received a contract structure that's acceptable to Mike Evans, and takes Tampa's considerations into account as well, per source." She added, 'there's business sense to the Bucs getting a deal done for Evans before Justin Jefferson's extension hits the market.'"
No timeline was provided, so what this means isn't quite clear. Evans is in the final year of his contract.
But if true, and Joe has zero reason to doubt credible Anderson, now of CBS, at least the sides don't seem terribly far apart.
---
Catch up on your Ira Kaufman Podcast listening. Ira devoted an entire episode to the Mike Evans situation.