Plenty Of Unsold Bucs Tickets For Sunday; Why Did Some Prices Drop?
September 14th, 2023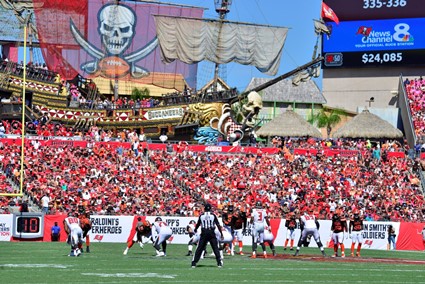 It's about 75 hours until kickoff of the Bucs-Bears home opener in Tampa and the Bucs have loads of tickets available.
Joe's count shows about 2,000 unsold seats on TicketMaster.com, the Bucs' official portal for non-resale tickets.
The cheapest seats shown cost $106.00 plus fees. What surprised Joe is that the cheapest seats 10 days ago were $144.00. Odd.
Did the Bucs slash prices to try and pack the stadium?
Regardless, fans attending should brace themselves for at least 10,000 to 15,000 Bears fans in the house. It won't be the first time the Tampa Bay offense must prepare for a silent count on its home turf. Joe hopes offensive coordinator Dave Canales is aware of that reality since it would never happen in Seattle.
If you'd rather not dent your credit card bill with a trip to the stadium, enjoy the game at your local Big Storm Brewing Co. taproom or at one of the 11 Tampa Bay area Hooters locations.