"Obviously Pretty Good"
September 3rd, 2023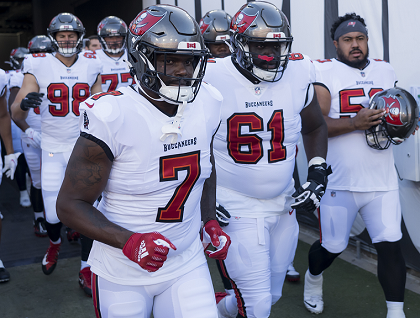 While Peter King sees Tampa Bay as an obvious loser team that likely could be knocking of the door of the NFL basement this season, a man with intimate knowledge of the Bucs and experience as decision-maker sees something different.
Former Bucs rock star general manager Mark Dominik looks at Bucs' talent and assessed the team as "obviously pretty good" while co-hosting on SiriusXM NFL Radio with Joe's pal Alex Marvez last week.
But like many Bucs fans — and Dominik is a Bucs fan — Dominik is unnerved by the team's many question marks.
"They've got a lot of young guys they're popping into that offensive line, right? And that makes me nervous for them," Dominik said. "Those guys gotta grow and develop."
All the youth on the roster, including six undrafted free agents, means the Bucs are sort of a wait-and-see team.
"Just go down the offensive side — and I really like what Trey Palmer did, their sixth-round pick, in the preseason. … Basically almost the entire offensive line is drafted in 2020 or 2021, 2022, 2023. Same with the tight ends, same with the running back room, you know, same with some of the defensive line," Dominik said.

"They're trying to go through that transition of becoming a younger team while, thankfully, in a division where everybody is trying to figure out what they have at quarterback."
It's a year of learning for 10th year general manager Jason Licht, Dominik said, see what his young players are really about and whether he wants to move forward with the current coaching staff.
Yes, Dominik knows Todd Bowles is on a hot seat. He also sees the bigger Bucs picture as a key cog in the pending Mike Evans decision.
"It feels like a team that is kind of going through that youth movement, and that's where this gets interesting with Mike Evans," Dominik said. "Even though he's a great player, you realize he's going to be 31 years old next year."
As far as Dominik's take on the Evans contract barking, Joe already shared that Dominik thinks Team Glazer will make a new deal happen as long as it's very close to $25 million annually.
---
Join Ira Kaufman and Bucs fans on opening day at the Big Storm Brewing Co. taproom in Clearwater, on 49th St. just south of Ulmerton Road. It's a 1 o'clock kickoff and Ira will be hanging out starting at 11:45 a.m. 
Beautiful covered patio with strong sightlines and audio. Indoors, too! Cocktails, Florida's best craft beer and more.